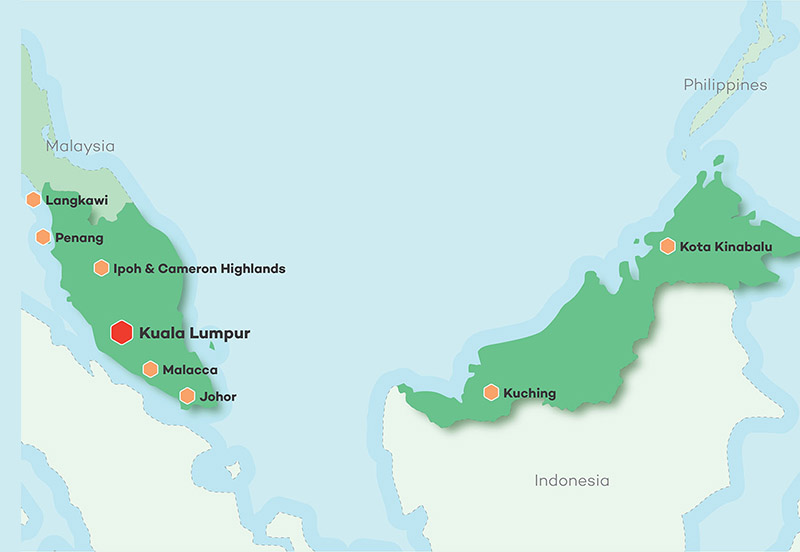 From layouts carved from virgin jungle to championship tests that rank amongst the most challenging in Southeast Asia, Malaysia is blessed with plentiful manna for golfers. Despite this the country can be underrated as a golf destination. This relative neglect has resulted in positive benefits for golfers visiting the country.
First, and importantly, it rarely breaks the bank to play Malaysia's tremendous assortment of courses. With a weekday round on good quality layouts averaging around US$84, the nation is a world leader when it comes to great value holiday golf.
The country's varied landscapes are also a plus. Golf options range from coastal layouts to tracks located high in mountainous terrain or in jungle environs where the main spectators are the resident monkeys. What's more, Malaysia is no slouch when it comes to providing off-course thrills and relaxation. Some of the world's finest beaches can be found here and the tropical scenery is often outstanding.
Fantastic golf can be found all over Malaysia. In the north of the peninsular section of the country, the paradise island of Langkawi is home to the thrilling Els Club Teluk Datai. The quality rarely lets up as you venture further south on the mainland.
The country's vibrant capital Kuala Lumpur is a portal to several worldclass tracks including TPC Kuala Lumpur and The Mines. The southern state of Johor, meanwhile, is also home to numerous excellent layouts, such as the two The Els Club Desaru Coast courses.
Standards remain elevated when you travel over to Malaysia's portion of the giant island of Borneo. The state of Sabah is long established as a heaven for golfers. With the imposing bulk of Mount Kinabalu – the tallest peak in Southeast Asia – providing a dramatic backdrop, golfers will scale the heights of design excellence at a collection of tropical beauties that encapsulate Malaysia's overall appeal as a golf destination.
TOP GOLF COURSES IN MALAYSIA
Notching an ace at a short hole is one of the greatest rushes a golfer can experience. It can also bring substantial awards – with even club players scoring everything from free holidays to new cars by achieving the feat. A more unusual prize, however, was on offer for golfers at a charity tournament held in the Malaysian state of Kedah in 2017: a cow. Tournament director Datuk Yusoff Md Shah said he wanted to try a different approach to prize-giving. "I am aware this could be the first time a cow has been presented as a prize," he said. Tragically, nobody scored a hole in one.
5 REASONS TO TRAVEL TO MALAYSIA FOR GOLF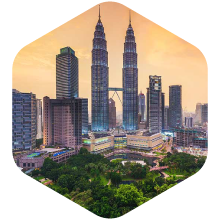 1) GREAT VALUE FOR MONEY
Malaysia's tremendous assortment of courses may be high in quality, but rarely does it break the bank to play them. While neighbouring Singapore has some of the highest green fees in the world, Malaysia is far more egalitarian. With a weekday round on one of the country's best layouts costing, on average, somewhere around $60, Malaysia is a world leader when it comes to great value holiday golf.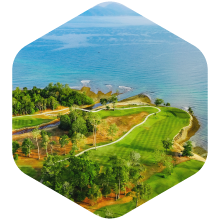 2) HUGE COURSE VARIETY
If its diversity you are after, Malaysia has a full range of treats in store. Options run the gamut from coastal layouts and courses located near major urban centres to tracks carved through rainforest or located high in mountainous terrain.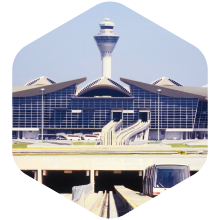 3) EXCELLENT TRANSPORTATION
Although it bills itself as 'truly Asia', Malaysia's excellent transport infrastructure belies popular images of rickety trains and traffic choked highways. Great roads, a decent rail network and affordable internal flights on low-cost airlines such as Air Asia and Firefly and national carrier Malaysian Airlines make getting from course to course a cinch.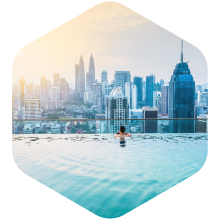 4) REST AND RELAXATION
Malaysia is not a freewheeling party destination like its holiday golf rival Thailand next door, but its laid-back atmosphere is legendary. The locals are friendly, the beaches and resorts are wonderful and alcoholic refreshments are readily available. Meanwhile, cities such as Kuala Lumpur and Kota Kinabalu in Sabah have lively nightlife scenes.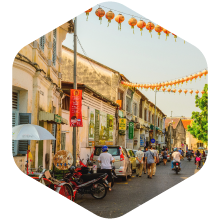 5) UNDER THE RADAR APPEAL
It seems strange considering its obvious attributes, but Malaysia remains relatively untouched by the hand of mass golf tourism. While expats and locals keep the courses busy at the weekend, traffic is blessedly sparse at other times. Hit even the top-rated courses during the week and there's a good chance you won't get held up once.