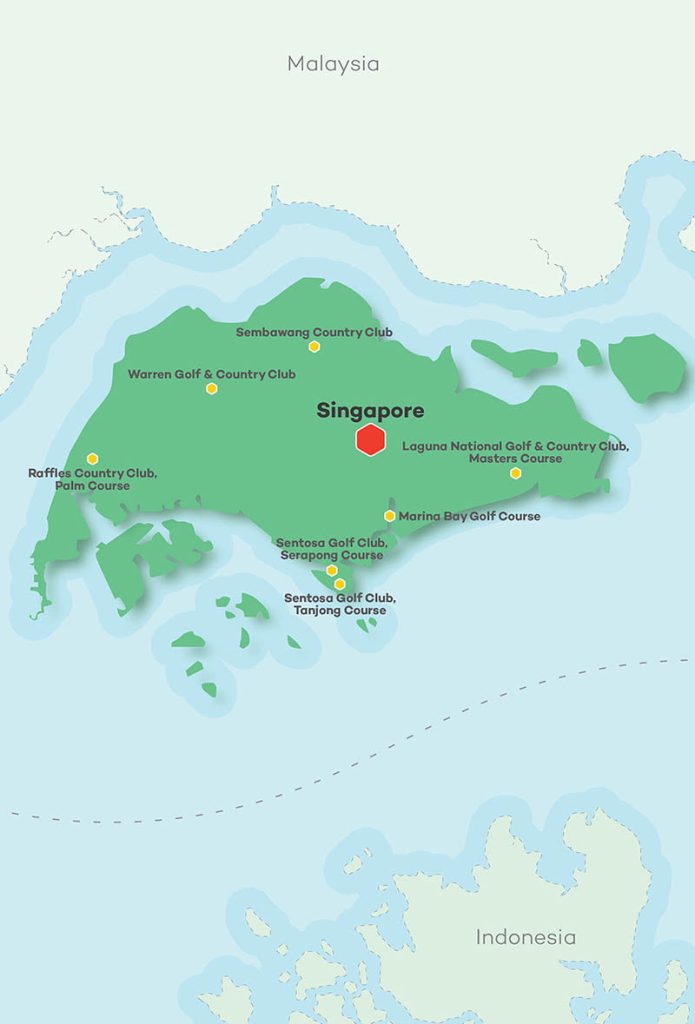 For a relative small fry, Singapore boasts some tasty stats. The 'little red dot' at the tip of the Malay Peninsula has the highest percentage of millionaires in the world and its ship port handles nearly 50% of the global crude oil supply.
Meanwhile, the city state's plethora of dining options keeps its population of just over 5million stuffed to the gills with everything from sumptuous fare endorsed by Michelin-starred chefs to local hawker stand favorites such as laksa, fish head curry and bak kut teh.
It is perhaps unsurprising then that this tiny country – it measures just 714.3km squared and only 50kilometres from East to West and 25kilometres from North to South at its furthest extremities – has managed to foster such a healthy contingent of top-notch golf courses.
Despite serious demands on space there are around 30 courses from which to choose. Layouts range from world-renowned tracks such as the Serapong course at Sentosa Golf Club – famous to global television audiences as the host of the annual Singapore Open – to less vaunted, yet still exemplary, courses such as Warren Country Club and the Palm at Raffles Country Club.
Unsurprisingly there's a good deal of variety to be found among all these beauties. While some, like the Bukit course at Singapore Island and the Garden course at Tanah Merah, offer supremely challenging golf in wonderfully bucolic tropical parkland surrounds, others are more open in style and offer a blend of undulating links-style mounding and American target golf.
Among the top draws, the Garden course at Tanah Merah is an immaculately conditioned layout that winds its way around lakes and through palms and tropical hardwoods. At Sentosa, both the Tanjong and the Serapong courses are stellar tests with the latter just edging matters on points. The first nine holes of the Serapong snake through heavily wooded land, while the second loop – which was routed on reclaimed land – is more open in character.
If there's a drawback to golf in Singapore it is exorbitant pricing (prices of around S$200 are the norm for a midweek round and tariffs break the S$300-400 mark at weekends) and a slightly buttoned up atmosphere. Dress codes are strict – collars are de rigueur – while many clubs have restrictions on non-member play.
Nevertheless, it is well worth negotiating these obstacles to experience a golfing destination that lives up to the sobriquet of 'small but perfectly formed.
Notching an ace at a short hole is one of the greatest rushes a golfer can experience. It can also bring substantial awards – with even club players scoring everything from free holidays to new cars by achieving the feat. A more unusual prize, however, was on offer for golfers at a charity tournament held in the Malaysian state of Kedah in 2017: a cow. Tournament director Datuk Yusoff Md Shah said he wanted to try a different approach to prize-giving. "I am aware this could be the first time a cow has been presented as a prize," he said. Tragically, nobody scored a hole in one.
5 REASONS TO TRAVEL TO SINGAPORE FOR GOLF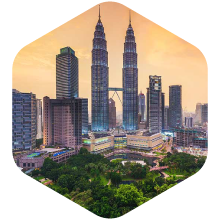 1) GREAT VALUE FOR MONEY
Malaysia's tremendous assortment of courses may be high in quality, but rarely does it break the bank to play them. While neighbouring Singapore has some of the highest green fees in the world, Malaysia is far more egalitarian. With a weekday round on one of the country's best layouts costing, on average, somewhere around $60, Malaysia is a world leader when it comes to great value holiday golf.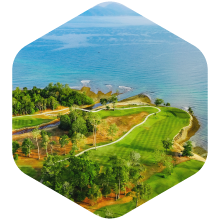 2) HUGE COURSE VARIETY
If its diversity you are after, Malaysia has a full range of treats in store. Options run the gamut from coastal layouts and courses located near major urban centres to tracks carved through rainforest or located high in mountainous terrain.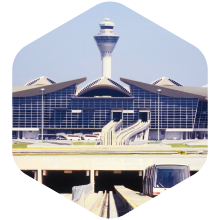 3) EXCELLENT TRANSPORTATION
Although it bills itself as 'truly Asia', Malaysia's excellent transport infrastructure belies popular images of rickety trains and traffic choked highways. Great roads, a decent rail network and affordable internal flights on low-cost airlines such as Air Asia and Firefly and national carrier Malaysian Airlines make getting from course to course a cinch.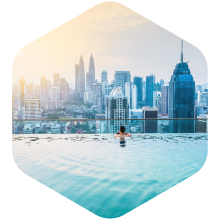 4) REST AND RELAXATION
Malaysia is not a freewheeling party destination like its holiday golf rival Thailand next door, but its laid-back atmosphere is legendary. The locals are friendly, the beaches and resorts are wonderful and alcoholic refreshments are readily available. Meanwhile, cities such as Kuala Lumpur and Kota Kinabalu in Sabah have lively nightlife scenes.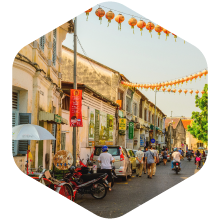 5) UNDER THE RADAR APPEAL
It seems strange considering its obvious attributes, but Malaysia remains relatively untouched by the hand of mass golf tourism. While expats and locals keep the courses busy at the weekend, traffic is blessedly sparse at other times. Hit even the top-rated courses during the week and there's a good chance you won't get held up once.