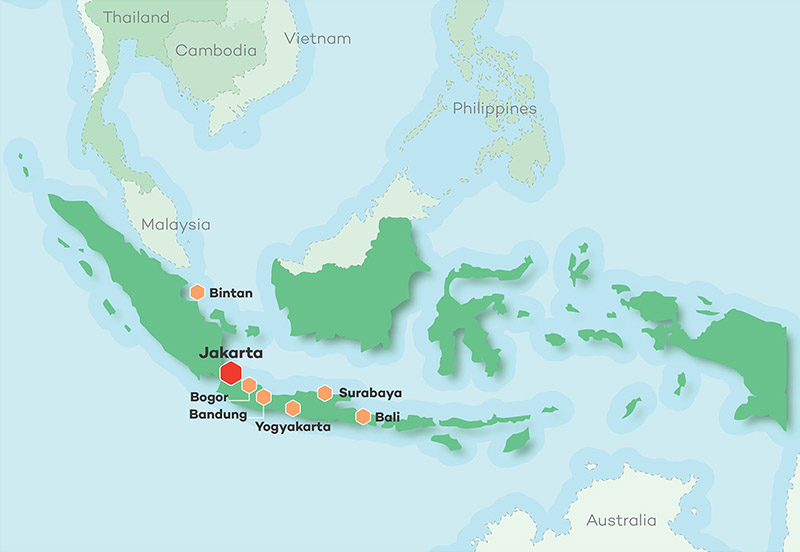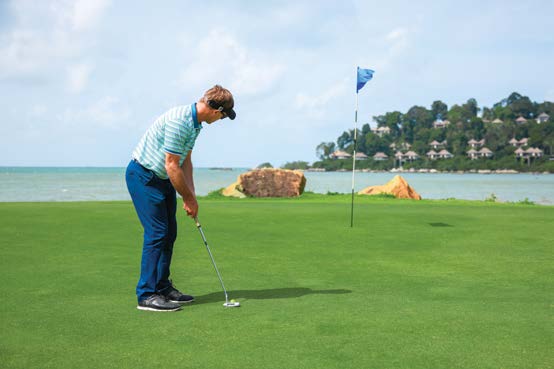 Indonesia may not be the first country that springs to mind when considering a golfing holiday, but the nation is rapidly establishing itself as a truly special place to play. Indeed, with its vast collection of diverse islands, it is one of Asia's wildest golfing rides.
Extending along the equator from the Straits of Malacca in its far northwest to distant Papua in the east, the archipelago runs the full gamut of play experiences. From the wealth of courses in the Riau group of islands near Singapore – where the magical Ria Bintan heads up a phalanx of top-quality clubs — to a varied selection of tests around the capital Jakarta and incredible layouts that weave through lush jungle and verdant paddy fields in the rest of Java and in Bali, the nation offers rich rewards to visiting golfers.
With some of the friendliest caddies in Asia as well as fantastic food, culture and other off-course attractions, Indonesia is well placed to stake its claim as a golfing heavyweight in the region.
The Indonesian archipelago is peppered with golf courses, but the best quality layouts are concentrated in Java, Bali and in the Riau group of islands near Singapore. A good place to start any golf odyssey in the country is the capital Jakarta: a dynamic metropolis with a lively bar, restaurant and retail scene. The city is within easy striking distance of several of Indonesia's best clubs including Jagorawi and Royale Jakarta.
Another sparkling destination in Indonesia is Bintan, the most golf friendly island in the Riau group with courses that wind through jungle and skirt the shores of the ocean. There are several courses here while excellent boat connections make for smooth transfers from Singapore's international airport.
Elsewhere in Java, the city of Surabaya is gateway to the Jack Nicklaus designed track at Taman Dayu. No trip to Indonesia is complete without visiting Bali and the so-called "Island of the Gods" is well teed up for golf thanks to the presence of top clubs such as Bali National and Handara Golf & Resort.
TOP GOLF COURSES IN INDONESIA
The most volcano-pocked nation on the planet, Indonesia is home to 127 active peaks. One of these, Mount Merapi, just outside the Javan city of Yogyakarta, erupted as recently as April 2014. Not the best place to locate a golf course you might think? Not so. In fact, Merapi Golf Course – laid out by Thomson, Wolveridge & Perret — is regarded as one of the top layouts in Indonesia, with volcanic rocks adding to the course's eye-catching appeal.
5 REASONS TO TRAVEL TO INDONESIA FOR GOLF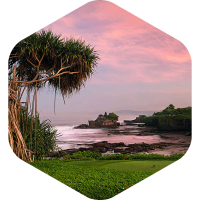 1) THE REGION'S MOST DIVERSE GOLF DESTINATION
If you've ever wondered what it might be like to play golf in the crater of an extinct volcano before moving on to a course that carves through jungle and along the tropical ocean shores, then wonder no more. Indonesia's vast collection of islands offer both environmental and cultural diversity resulting in golf and off-course experiences that never get old.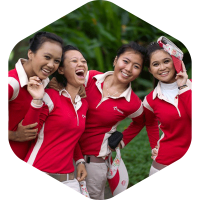 2) THE FRIENDLIEST CADDIES IN ASIA
Thailand and Vietnam may beg to differ, but Indonesia can stake a compelling claim to having the most convivial caddies in the region. On arrival at a golf course, don't be surprised if you are greeted by a chorus line of friendly female caddies eager to make your acquaintance and ensure that your round goes smoothly. As well as being enthusiastic, the girls are mostly highly trained in the nuances of their home course and are also likely to save you a fair few strokes.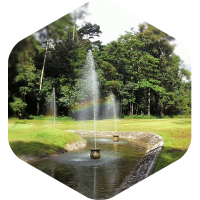 3) PLAY ONE OF THE MOST REMOTE COURSES IN ASIA
Papua, the western half of New Guinea, is regarded even by Indonesians as one Asia's last frontier. Golf though has arrived in the state, and in spectacular fashion, in the shape of Klub Golf Rimba Irian. Designed by acclaimed US design duo Ben Crenshaw and Bill Coore, the course is routed across a lowland swamp – at one time inhabited by a Melanesian tribe – in the shadow of Puncak Jaya, the highest and most sacred peak in Indonesia.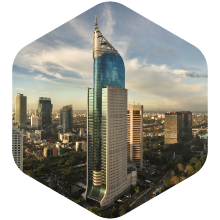 4) ASIA'S MOST GOLF FRIENDLY CAPITAL
Jakarta may not possess the historic charm of other capitals in Asia. What it does have though – and in abundance – is easy access to an impressive range of quality golf courses. There are 35 clubs to choose from in the city and its surrounding areas, including some of the finest layouts in the country. With its lively nightlife and great restaurant scene, meanwhile, the city is also an excellent place for off course R&R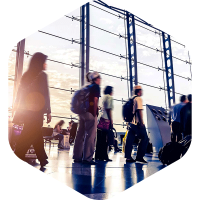 5) FREE AND EASY VISA POLICY
To boost tourism, Indonesia has relaxed its visa requirements in recent years and is now one of the most hassle-free countries in the region to visit. At the time of writing, citizens of 169 countries – including Australia, the US, the UK and major European nations – are granted a 30-day free visa upon arrival.