Despite witnessing increased tourist footfall in recent years, Laos remains very much off the radar in comparison with its neighbours: especially when it comes to golf. The tiny landlocked country lacks the paradise beaches and big hitting highlights of some of its counterparts in Southeast Asia. That shortfall is, however, compensated for by some of the region's most pristine scenery, the backdrop to countless unforgettable experiences.
Until recently, those activities focused more on Lao culture and the country's potential for outdoor activities such as hiking than they did on golf. Over the last few years, however, Laos has added some serious artillery to its arsenal of layouts with high quality courses in both the capital Vientiane and in the northern city of Luang Prabang, the nation's former seat of royalty and its most appealing tourist destination.
Every expanding Asian metropolis needs a decent golf facility and Vientiane now has one in Long Thanh-Vientiane Golf Club, better known as Long Vien.
Situated around 16 kilometres outside the city in one of the Special Economic Zones fuelling the city's investment boom, the club has 27 holes laid out on a basically flat topography with manmade mounding, water hazards and sharp-lipped bunker complexes providing the main challenges for golfers. First rate facilities include posh locker rooms, an international restaurant and a well-equipped pro shop, while floodlights offer opportunities for night golf.
Around 60km north of the capital, next to Nam Ngun Lake – known as the "Lake Geneva of Laos" – is Dansavanh Nam Ngun Resort. The resort, which has a casino, hotel and restaurant among other facilities is aimed first and foremost at the large contingent of Chinese now doing business in Laos. The golf course though holds appeal to all nationalities. The course has been described as the most picturesque in Laos. And it's hard to disagree with the aesthetic appeal of a layout that is routed round a series of lakes and streams with water coming into play on no fewer than ten of the holes.
Other fine courses in the Vientiane area, meanwhile, include the well-maintained Lakeview Vientiane Golf Club and Lao Country Club, the country's oldest course, which has been extensively refurbished of late.
Although the capital has the lion's share of the golf action in Laos, the country's prime test lies further north at Luang Prabang Golf Club. Laid out along the southern bank of the mighty Mekong River just outside the city, the course is one of the most impactful in the region. No two holes are parallel to each other, which adds to the feeling of embarking on an epic journey.
While the first nine plays away from the river into the tropical hinterland, the course slowly works its way back towards the water. The 17th, a testing par-3, plays right alongside the river. The majestic waterway comes into play too at the final hole, a testing uphill par 4 that makes a fitting finale to an unforgettable round.
Notching an ace at a short hole is one of the greatest rushes a golfer can experience. It can also bring substantial awards – with even club players scoring everything from free holidays to new cars by achieving the feat. A more unusual prize, however, was on offer for golfers at a charity tournament held in the Malaysian state of Kedah in 2017: a cow. Tournament director Datuk Yusoff Md Shah said he wanted to try a different approach to prize-giving. "I am aware this could be the first time a cow has been presented as a prize," he said. Tragically, nobody scored a hole in one.
5 REASONS TO TRAVEL TO SINGAPORE FOR GOLF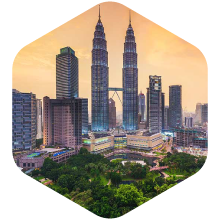 1) GREAT VALUE FOR MONEY
Malaysia's tremendous assortment of courses may be high in quality, but rarely does it break the bank to play them. While neighbouring Singapore has some of the highest green fees in the world, Malaysia is far more egalitarian. With a weekday round on one of the country's best layouts costing, on average, somewhere around $60, Malaysia is a world leader when it comes to great value holiday golf.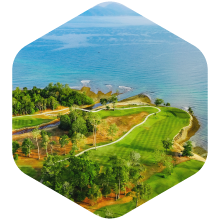 2) HUGE COURSE VARIETY
If its diversity you are after, Malaysia has a full range of treats in store. Options run the gamut from coastal layouts and courses located near major urban centres to tracks carved through rainforest or located high in mountainous terrain.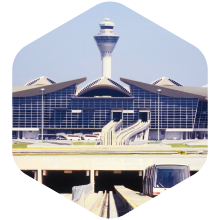 3) EXCELLENT TRANSPORTATION
Although it bills itself as 'truly Asia', Malaysia's excellent transport infrastructure belies popular images of rickety trains and traffic choked highways. Great roads, a decent rail network and affordable internal flights on low-cost airlines such as Air Asia and Firefly and national carrier Malaysian Airlines make getting from course to course a cinch.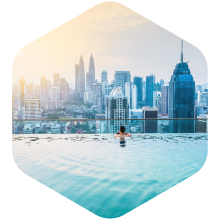 4) REST AND RELAXATION
Malaysia is not a freewheeling party destination like its holiday golf rival Thailand next door, but its laid-back atmosphere is legendary. The locals are friendly, the beaches and resorts are wonderful and alcoholic refreshments are readily available. Meanwhile, cities such as Kuala Lumpur and Kota Kinabalu in Sabah have lively nightlife scenes.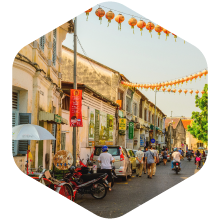 5) UNDER THE RADAR APPEAL
It seems strange considering its obvious attributes, but Malaysia remains relatively untouched by the hand of mass golf tourism. While expats and locals keep the courses busy at the weekend, traffic is blessedly sparse at other times. Hit even the top-rated courses during the week and there's a good chance you won't get held up once.